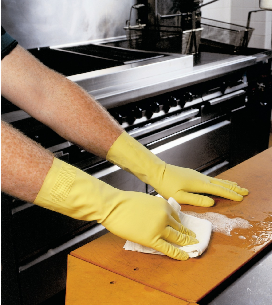 Made of 100% natural rubber with soft cotton flock lining.
Yellow, 18 Mil, 12" long—ideal for cleaning tables, countertops and prep areas.
Orange, 28 MIL, 14" long—ideal for cleaning walls, windows, and ceilings.
CAUTION: This product contains natural rubber latex which may cause allergic reactions. Safe use of this glove by or on latex sensitive individuals has not been established.
JobSelect® Cleaning Gloves
| | | | | |
| --- | --- | --- | --- | --- |
| item # | description | size | case pack | total units |
| 1025-02 | JobSelect® 28 MIL Latex Orange Flock Lined | M | 2/12/4 | 96 gloves or 48 pair |
| 1025-03 | | L | 2/12/4 | 96 gloves or 48 pair |
| 1005-01 | JobSelect® 18 MIL Latex Yellow Flock Lined | S | 2/12/12 | 288 glvs or 144 pair |
| 1005-02 | | M | 2/12/12 | 288 glvs or 144 pair |
| 1005-03 | | L | 2/12/12 | 288 glvs or 144 pair |
| 1005-04 | | XL | 2/12/12 | 288 glvs or 144 pair |
| 1005-02-CP | JobSelect® 18 MIL Latex Yellow Flock Lined - Convenience Pack | M | 2/12/4 | 96 gloves or 48 pair |
| 1005-03-CP | | L | 2/12/4 | 96 gloves or 48 pair |