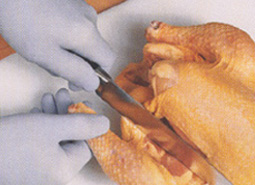 Extremely durable, long-wearing gloves, highly resistant to animal fats and many chemicals - made of 100% nitrile composition.
Pebble textured to enhance grip and control, wet or dry.
CAUTION: Components used in making these gloves may cause allergic reactions in some users. Follow your institution's policies for use. U.S. Patent No. Re. 35,616 European Patent No. 0456333

Endure® Nitrile Gloves
No records were found.