Visible Glove Use is a Key Factor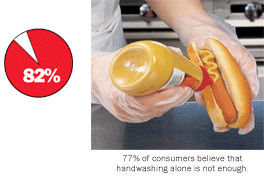 First Impressions Are Important
A customer's overall impression of your operation is very important. 82% of consumers gave a very high approval of an establishment where foodservice workers wear gloves
How To Please Your Patrons
Customer satisfaction is excellent when foodservice workers wear gloves. 48% of customers claim to have "better than expected" satisfaction with their restaurant visit when gloves are used.
Will They Come Back?
61% of customers are "much more likely" to revisit a restaurant where workers wear gloves
77% would select a restaurant using gloves over one that did not
70% of customers are even willing to pay more to visit a restaurant that uses gloves
Customer Approval Is Critical
When patrons observe glove use in a restaurant they have a strongly favorable perception about the restaurant and believe that the establishment:
85% believe operation is trying very hard to be sanitary and cares about me
67% think operator cares a lot about the food they serve
63% feel restaurant is trying very hard to make a positive impression on me
Source: Consumer Perceptions of Foodservice Protective Gloves - An independent study conducted for FoodHandler by NPD Foodworld.